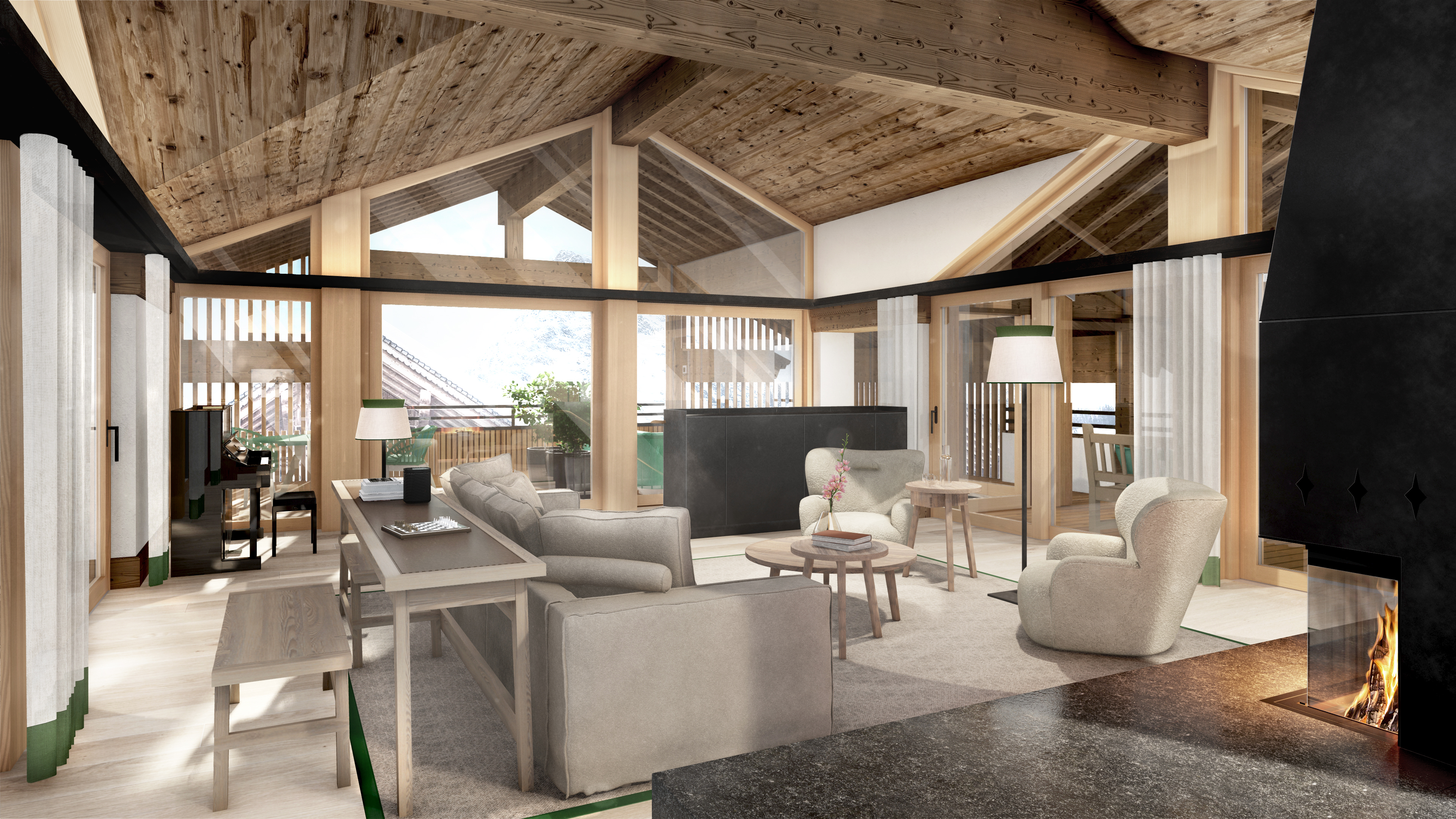 accomodates 6 people.  Can be combined with other chalets at Lech Lodge.
There is a lot of privacy at the Lech Lodge LOFT. The wide balconies and terraces are aligned to the south, west and east, following the natural course of the sun.
A special highlight is the panoramic window facing north with a view of the forest, the Lech river, the Schlegelkopf including the ski slope and the Karhorn. In the Lech Lodge LOFT, the living room and two bedrooms are on one level. You can easily the underground car park with the lift. The large entrance area offers plenty of space for wardrobes and shoes. On this floor is the third bedroom with bathroom. The spacious and light-flooded living room with an open fireplace and up to 3.70 m high ceilings in the gable brings nature inside. The balconies 3.5 m wide, are comfortably furnished and can also be used in winter thanks to the canopies. The kitchen is practical and fully equipped, which does not mean, you have to use it. Your "Fairy Goodmother" team is near to assist you. The living room is equipped with multimedia facilities and those who are musically gifted can entertain their beloved ones on a Boston Seinway piano. In the second bedroom the beds can be seperately if required.
In the Lech Lodge LOFT you have the opperturnity to gather your private guest of the other chalets or to dine toghether. The dining table seats up to 12 people.
220 m2 of living space and approx. 100 m2 of balconies
3 bedrooms with double beds and each with its own bathroom,
in one of the bedrooms, the beds can be placed separately as required.
Private sauna under the gable with a wonderful view in the outdoor area, steam bath, free-standing bathtub in the master bedroom.
Entrance area with large wardrobes and heated ski boot warmers
Elevator from the underground garage to the loft.
living room with open fireplace,
Boston Steinway piano
Multimedia equipment and Apple TV
Modern kitchen, dining room and space for guests.
Preise per day for the Chalet unit "Loft" and Personal Assistant.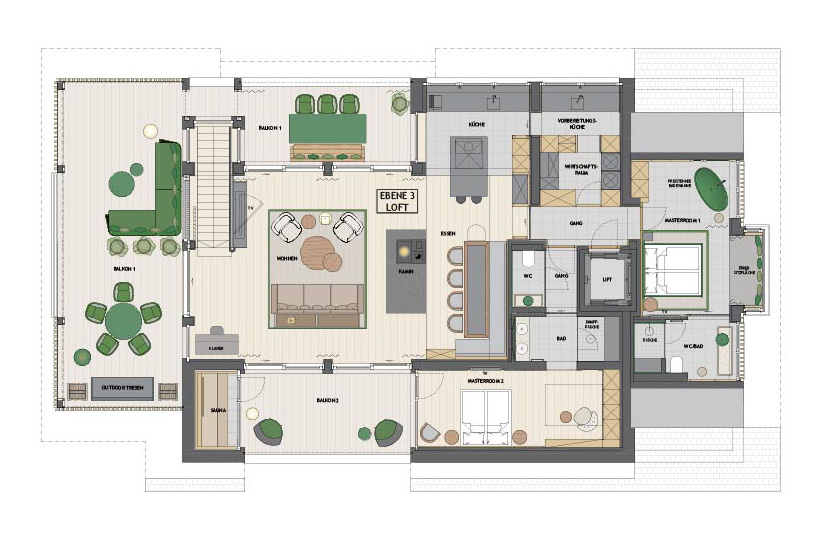 Prices Chalet Loft
Summer
10. Jun bis Dec 01 2024
€ 3.175,00
Season 1
Dec 01 bis Dec 09 2023
Apr 06 bis Apr 20 2024
€ 2.920,00
Season 2
Dec 09 bis Dec 23 2023
Jan 06 bis Jan 27 2024
Mar 23 bis Apr 06 2024
€ 3.240,00
Season 3
Jan 27 2024 bis Feb 10 2024
Feb 17 bis Mar 23 2024
€ 4.140,00
Season 4
Dec 23 2023 bis Jan 06 2024
Feb 10 bis Feb 17 2024
€ 4.420,00
You will find the following advantages in the Lech Lodge Loft:
→ Entrance area with front terrace and seating lounge and ski cupboards,
→Cloakroom and ski boot warmers
→ Cozy living room with open fireplace
→ Fully equipped eat-in kitchen with a comfortable seating area for up to 12 people.
→ Private, covered terrace areas facing east, south and west
→ Underground parking space in the house, ski bus stops right outside the front door
→ High quality materials and beds
→ Private spa with open-air sauna and steam shower
→ Cozy bathrobes and bath towels
→ Thysson hair dryer and cosmetic mirror in every bathroom
→ Bathroom accessories
→ Nespresso machine and assortment of teas
→ Wine climate cabinet
→ Smart TV in all rooms and living areas
→ Sonos, Wi-Fi, safes
→ Games, toboggans, books, films to borrow
→ AppleTV
→ Boston Steinway piano
→ Fresh fruit and homemade cake upon arrival
Reservation & storno conditions
The reservation is valid with a prepayment and confirmation of the Lech Lodge.
Prepayment
50% with the reservation
50% 4 weeks before arrival (christmas 6 weeks before arrival)
Methods of payment:
Bank virement to: Lech Lodge, IBAN AT40 5800 0185 2861 0125  BIC HYPVAT2B
Credit Cards: Visa, Mastercard.
Storno condition:
till 4 months before arrival 20%
till 3 months before arrival 25%
till 2 months before arrival 50%
till 1 months before arrival 70%
till 2 weeks before arrival 90%
then 100%
We suggest to make a travel insurance!

MOBILITY PARTNER