Grand Chalet Lech II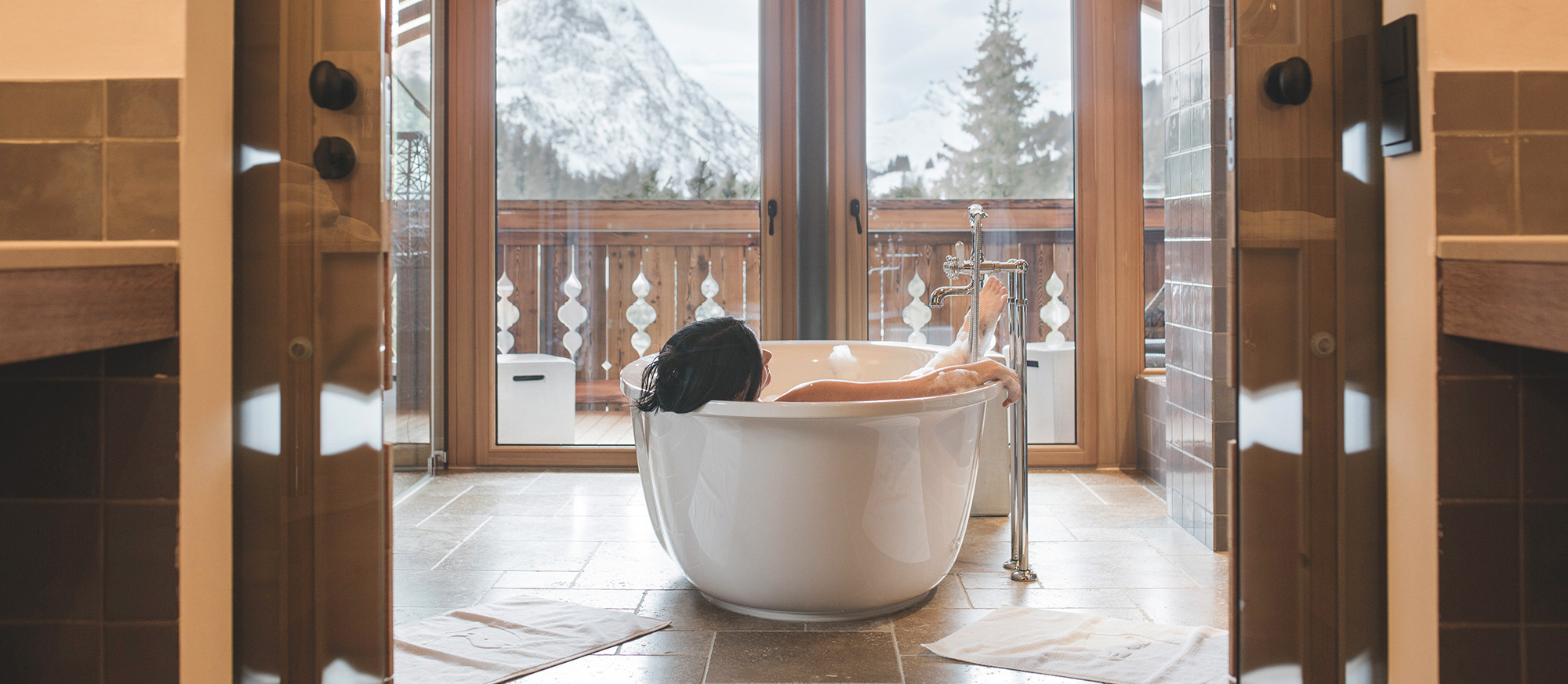 accommodates 8 people. Expandable to 12 – 13 persons in combination with Chalet Lech I.
In Grand Chalet Lech II there is plenty of privacy. The broad balconies and terraces are oriented to the natural course of the sun to the south and west.
In Grand Chalet Lech II living rooms and bedrooms are furnished to 4 half floors. All floors are connected with a lift. The large entrance area offers ample space for wardrobes and shoes. The cozy living room with fireplace brings nature through large windows inwards. The balconies are 3.5 m wide and are even in winter through the roofing available. There are also outside an open fireplace and heat lamps. In the fully equipped kitchen there is a family kitchen table and a separated sink and storeroom. The living room is equipped with multimedia facilities and, who is musically talented, can here entertaine his loved ones even on vacation on a Boston Steinway piano.
In the master bedroom there is a walk-in closet and bathroom with incredible views of the "Rote Wand" westward, a panoramic sauna, steam shower and large daybed.
In two of the four bedrooms can make the beds separately also, if wished.
In Grand Chalet Lech II there is also einough space, if  the guests of the other two chalets like to visit or dine together.
Grand Chalet Lech II
230 m2 of living space and 80 m2 balconies
4 bedrooms with double beds and an en suite bathroom and balcony,
in two bedrooms you can put the beds separately, if needed.
Private Spa under the roof with stunning views, panoramic sauna, steam bath, free standing bath and relaxation area.
Entrance with walk-in closet and private boot room with heated ski boot warmers
Lift to all floors
Living room with fireplace and outdoor fireplace on the balcony, heat radiators.
Boston Steinway Piano
Multimedia device and Apple TV
Kitchen, dining room and space for guests.
Prices per day for the chalet incl. Breakfast and Personal Assistant.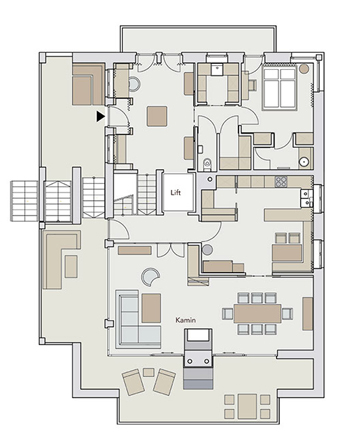 Prices Chalet Lech II
Summer
Jun1 to Dec 01 2023
€ 3.160,00
Season 1
Dec 01 to Dec 09 2023
Apr 06 to Apr 20 2024
€ 3.620,00
Season 2
Dec 09 to Dec 23 2023
Jan 06 to Jan 27 2024
Mar 23 to Apr 06 2024
€ 4.285,00
Season 3
Jan 27 2024 to Feb 10 2024
Feb 17 to Mar 23 2024
€ 5.104,00
Season 4
Dec 23 2023 to Jan 06 2024
Feb 10 to Feb 17 2024
€ 5.385,00
The following advantages can be found
in this Chalet of Lech Lodge:
→ entrance with cloakroom and ski-boot warmers
→ Comfortable living room with open fireplace
→ Fully equipped kitchen with a cozy sitting area
→ private terraces, 3,5 m wide, partly roofed direction south or west
→ Parking space in the house, ski bus stops right outside the front door
→ High-quality materials and beds
→ private spa with bio sauna and steam shower
→ fluffy bathrobes and towels
→ hairdryer and makeup mirror in each bathroom
→ Bathroom Accessories
→ Nespresso machine and teas
→ Wine Cabinet
→ TV in all rooms and living rooms
→ DVD, radio, Wi-Fi, Safe
→ Games, Toboggan, books, movies to borrow
→ Apple TV
Boston Steinway Piano
→ Fresh fruit and homemade cakes on arrival
Reservation & storno conditions
The reservation is valid with a prepayment and confirmation of the Lech Lodge.
Prepayment
50% with the reservation
50% 4 weeks before arrival (christmas 6 weeks before arrival)
Methods of payment:
Bank virement to: Lech Lodge, IBAN AT40 5800 0185 2861 0125  BIC HYPVAT2B
Credit Cards: Visa, Mastercard.
Storno condition:
till 4 months before arrival 20%
till 3 months before arrival 25%
till 2 months before arrival 50%
till 1 months before arrival 70%
till 2 weeks before arrival 90%
then 100%
We suggest to make a travel insurance!